Want to use our Springdrops backdrops in our photo studio?
We have numerous backdrops, props and all necessary studio equipment in our studio in Amsterdam Noord. Free parking on private property.
Furthermore we offer one-on-one training for studio photography with strobes, both digital and analog.
Our studio has the following equipment:
Springdrops photo backdrops
Various colors and styles available for your shoots, among which the colors Grey, Burgundy, Terracotta, Sage, Green, Petrol, Brown and more. Have a look here for photo examples.
Studio strobes
3x Elinchrom 250 w/s
2x Elinchrom 500 w/s
1x Elinchrom ELC1000 1000 w/s
1x Elinchrom ELB400 two heads
1x Elinchrom ELB1200 two heads
Metering
Sekonic Flash master L-358 + built-in trigger
Sekonic Speed master L-858D + built-in trigger
Triggers
1x Elinchrom EL-Skyport Fuji
1x Elinchrom EL-Skyport Nikon
2x Elinchrom generic Skyport for almost any camera with x-sync port
Soft boxes and umbrellas
1x 150cm Rotalux indirect deep octa
1x 100cm Rotalux shallow octa box
1x 100cm Rotalux deep octa + Lighttools grid
1x 70cm Rotalux deep octa + Elinchrom grid
2x Strip box 50×150 + 2x Lighttools grid
2x Strip box 35×100 + 1x Elinchrom grid
2x Portalite 40×40
2x Shoot-through umbrella white
2x Umbrella silver/black
1x Umbrella Deep Silver 105cm + white cover
Light shapers
1x 40cm Beauty dish white + grid
1x 40cm Maxi White
26cm HP reflector
1x 21cm reflector + grid
1x 18cm reflector + grid
4x uni umbrella reflector
2x wide umbrella reflector
1x Conical snoot + grid
Background reflector
Various deflectors and reflectors
Special lighting equipment
Ambitful Optical snoot + gobos + gels
Pixapro Optical snoot + canon EF mount + 50mm lens
Standards en tripods
Cambo studio stand
Elinchrom and manfrotto light- and accessories stands
Manfrotto boom arm stand
3x C-Stand + 3x boom arm
Kupo super-viser clamp
Calumet background stands
Manfrotto autopoles
Other
Godox Leadpower LP-800x
Bresser background cloth
Various cloths and curtains
Background paper in various colors and sizes (white, black, grey, orange, purple, pink, yellow, green, light blue)
Lastolite collapsible silver/gold reflector 95cm
Lastolite collapsible silver/gold/white translucent reflector 90cm x 120cm
Manfrotto reflector holder
Wind machine
Smoke machine
Avenger black flag 60x75cm 2x
V-Flat (white/black) 2x
CTO, CTB and color gels
Clamps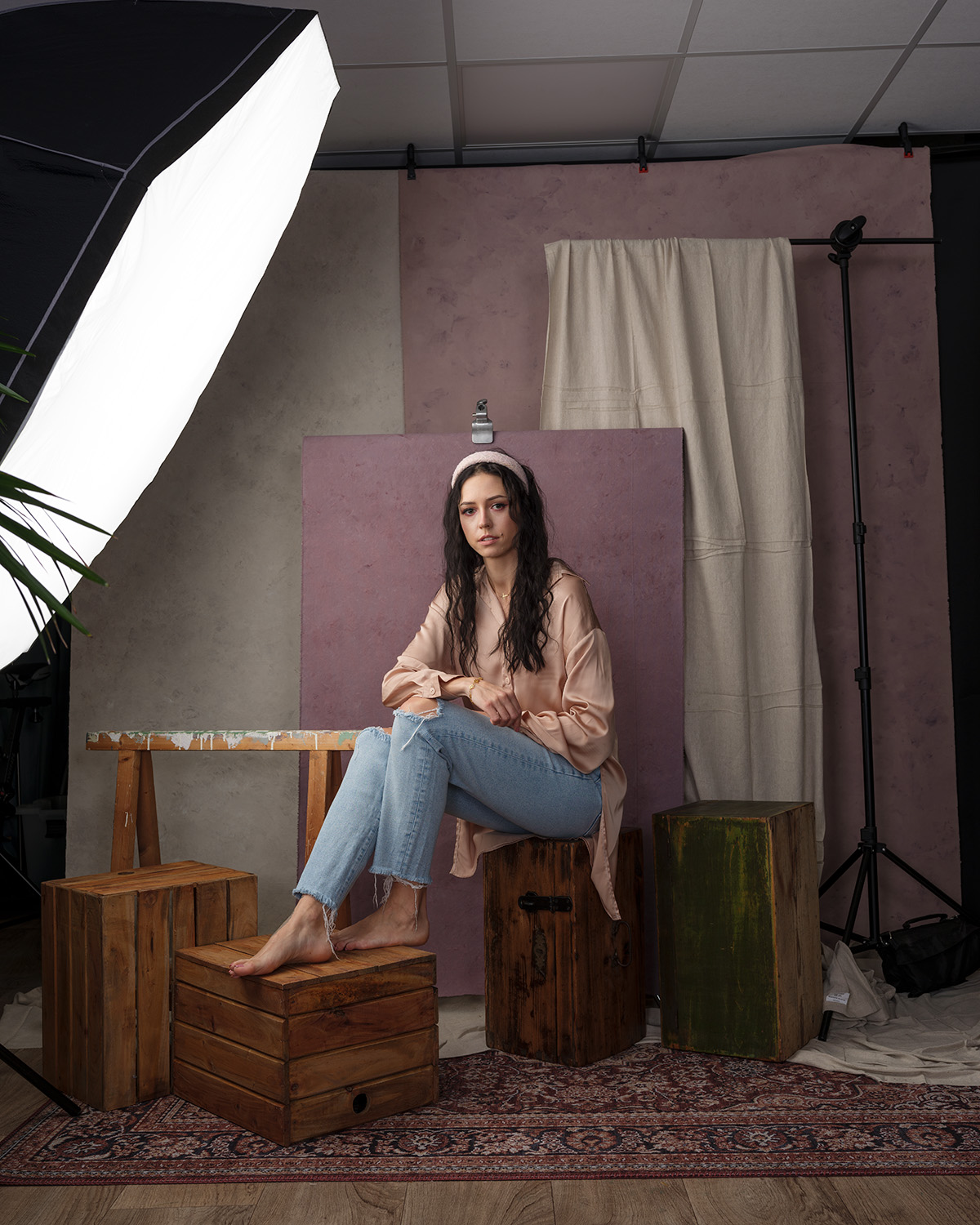 Prices
The use of our studio including assistance, use of above equipment, coffee and thee:
Starts at 175 Euro for a half day
Starts at 300 Euro for a whole day
Information about using our studio?
Our studio is suitable for shoots with no more than two persons/models. A team member will always be in the studio during your shoot.
Training / instruction
Want to learn how to take professional studio photos using strobes? We offer one-on-one training, for both digital and analog shooters. For analog photography, we have several 35mm, medium format and large format (4×5) camera's available.
Get in touch!